Shopify is the best eCommerce platform for selling products and services. It offers many more features to manage and market your business than any of its competitors. It has been the preferred choice of sellers across the globe because of its efficiency, simplicity, and reliability.
In Shopify, we can make use of apps to extend the functionality of your Store and add more user-specific features. Shopify has a ton of useful plugins in its store. Some are paid and some are free.
In this article we have discussed the Best Shopify Apps you must consider installing to boost traffic to your store and generate maximum sales.
SEO Doctor – Shopify SEO App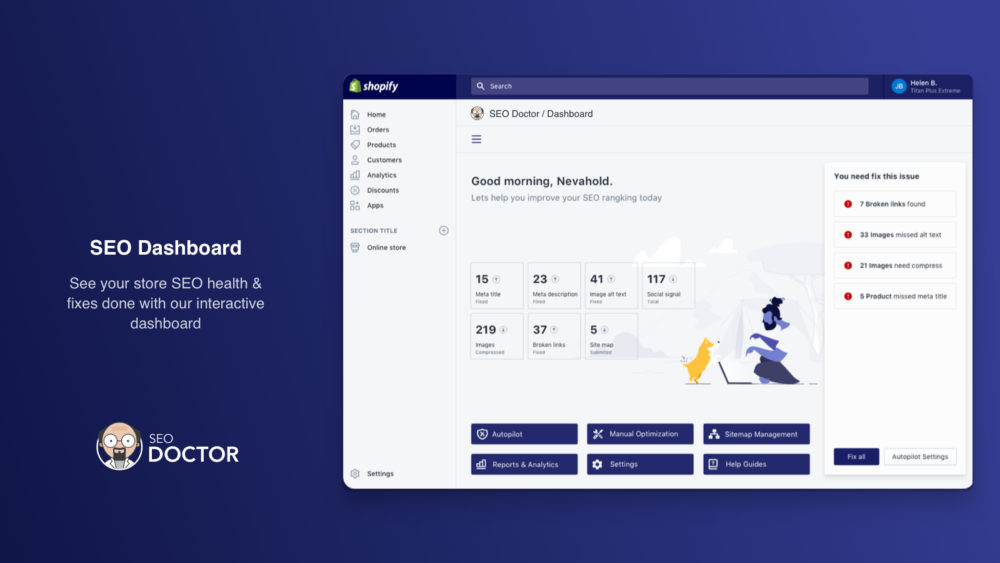 SEO Doctor App is the Best Shopify SEO App that your store needs.
Every website on the internet needs to be optimized to perform well in Google Search results and gain web traffic. Shopify too needs to be SEO optimized to gain visitors and reach the maximum amount of people.
SEO Doctor is an SEO oriented plugin that helps to boost organic traffic to your Shopify store by fixing SEO issues. It is easy to set up and use. It has two SEO mode Manual and Automatic. In Manual Mode, you can manually optimize SEO issues notified by its tools.
Also Read: Top 10 Best Shopify Apps for Product Feeds [Compared]
Whereas, Automatic or Autopilot Mode fixes SEO issues automatically. It can fix Meta Title, Meta Description, Image alt text, Compress Images for faster loading, and Fix Broken Links. It can run 24×7 even when you are away.
Following are some of the SEO Doctor's Important Features:
Sitemap Submission
Google Webmaster Tools Integration
JSON-LD Data Support
Website Speed Booster
Compress and Rename Images
Image Doctor – Shopify Image Editor App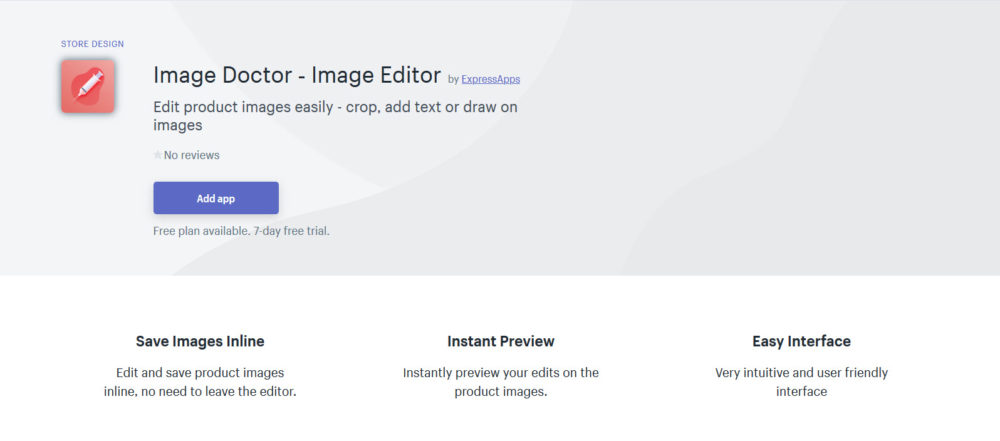 Image Doctor App is an easy to use Image Editor for Editing Product Images.
Shopify by default has minimal Image Editing options like Crop, Draw and Resize to name a few.
Image Doctor App is just like an image editor that you have on your phone. It does have the basic features like Crop, Flip, and Rotate along with some advanced Image Editing Techniques.
You can fix Image Brightness, Remove Whites, Manage Noise, and Pixelate Images. It comes with 10+ Color Filters to beautify your Product Images. Enter custom colored texts on the Images with Emphasis.
Add custom and pre-built Icons over the images with coloring options to enhance the images further. You can even draw on the images by freehand on straight lines. You can also mask images on one another with its masking feature.
Following are the features that you get with the Image Doctor App:
Instant Live Preview
10+ Color Filters
Image Mask Feature
Custom Crop Layouts
Remove Background
Add Custom Text
Draw over Images