SEO Doctor App has been the Best Choice of Shopify Store Owners to take care of their store's SEO issues and rank higher in Google and increasing web traffic. Though it is a feature-packed App having many advanced SEO features including Autopilot Mode, JSON-LD Data Support, Realtime 404 Error Tracking, Sitemap Submission, and many more.
Shopify SEO Doctor App has been improved significantly and it is now much better to use and simple to understand than the previous versions. The new SEO Doctor App Version 3.0.0 brings along an array of improvements and many bug fixes letting you enjoy the app to its fullest and fix all the underlying SEO Issues that hamper your Store's SEO quickly.
Also Read: Top 10 Best Shopify Apps for Product Feeds [Compared]
SEO Doctor App has helped thousands of Businesses run their Shopify Store smoothly without any problems by single-handedly monitoring the site's performance and fixing the encountered SEO issues. SEO Doctor is responsible for your store's great SEO health and makes sure you are not disturbed by silly SEO issues.
This is what the new SEO Doctor App Version 3 looks like: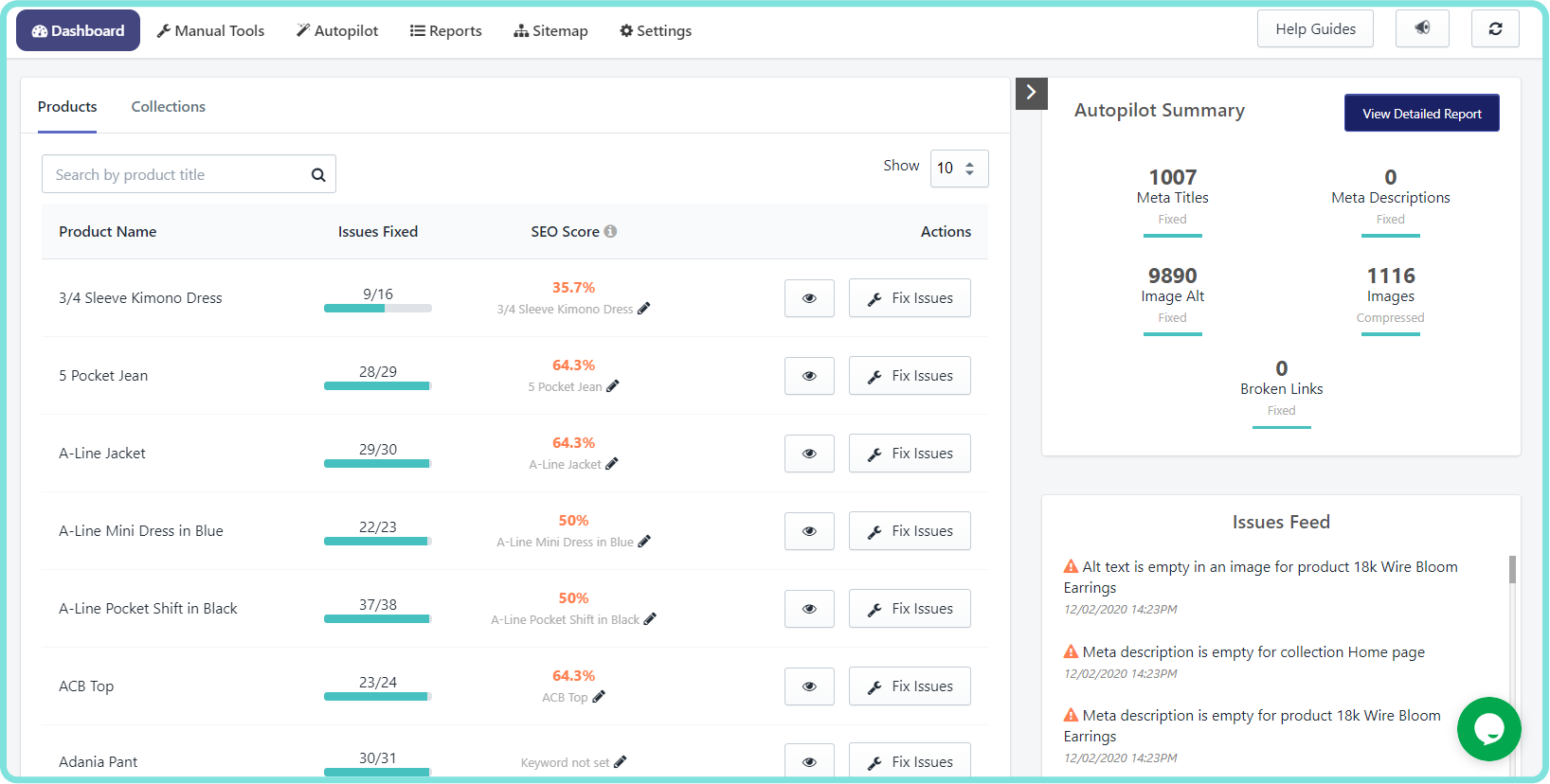 Some of the Major Improvements in the new SEO Doctor V3 App
New Navigation Menu
New Onboarding Flow
Realtime Syncing Status
New Dashboard Layout
Inline Issues Fix stats
Inline Setting of the SEO Keyword for products and collections
SEO Score calculation feature
Quick Preview of major Issues related to SEO
Autopilot Fixes Summary Section
Realtime Issues Feed Panel
Below we have shed some light on each new feature and how it will benefit you in using the app and fixing the SEO Issues real quick!
Also Read: Follow these 10 Simple Steps to Get Started with your Shopify Store!
New Navigation Menu
With the new Improved Navigation Menu, you can easily navigate within various menus mainly consisting of the Dashboard, Manual Tools, Autopilot, Reports, Sitemap, and Settings Tab and their submenus.
This new Tab Menu Design is more convenient and user-friendly as this is what is majorly followed in the industry and users are familiar with this kind of design making it the best choice.
New Onboarding Flow
We've introduced a new onboarding flow that will guide new customers to find their initial path with the new app so that they can start fixing the issues as soon as the app is set up and ready to use.
Realtime Syncing Status
You will be notified of the status of the SEO issues in real-time which means now you can get the issues fixed as soon as they are encountered without losing out on Visitor Traffic.
New Dashboard Layout
The New Dashboard is built in such a way that you are given maximum briefing about the status of your store's SEO performance without making it look more cluttered and forceful.
On the left you will find the list of Products and Collections with Details like Product Name, Issues Fixed, SEO Score, and Actions to be taken. Whereas, on the Right, you are given the autopilot summary where you can also view a detailed report and are also notified about all the issues that have been fixed with a timestamp.
Inline Issues Fix Stats
In the Dashboard, just beside the individual product or collections the fixed issues bar is now visible indicating the number of issues that are fixed along with the total issues that were encountered. This gives a more personalized approach allowing you to monitor the status of the issues of each product/collection and fix them accordingly.
Inline Setting of the SEO Keyword
You also can now set the individual keywords to rank a particular product or collection on the search engine. This again comes in handy letting you control each product and rank it individually.
Also Read: Follow these 5 Tips to Rank Multilingual Shopify Stores in 2021
SEO Score Calculation Feature
The New SEO Doctor App version also brings along the SEO Score feature that is based on Target SEO Keyword for product and collections indicating how well the SEO Keyword is performing and whether it needs further improvement or not. Remember the higher the SEO score, the better are the chances of it ranking in the Search Engine Results.
Quick Preview of Major Issues related to SEO
You are offered a Quick Preview of all the prevailing SEO issues that your store is facing in the dashboard itself also you can view a detailed report of the issues consisting of the Meta Title, Meta Description, Image Alt Text, Compressed Images, and Broken Links in the Reports Menu/Tab.
Autopilot Fixes Summary Section
Get a summary of the Recent Automatic Fixes carried out when you turn on the autopilot mode. The summary includes details about the number of Meta Titles Fixed, Meta Description Fixed, Image Alt Text Fixed, Images Compressed, and the Broken Links Fixed all in one fixed section. You also can view a Detailed Report of the fixes by hitting the View Detailed Report Button.
Realtime Issues Feed Panel
You receive real-time feeds about the issues that were fixed along with a timestamp to get an idea of the exact date and time the issue occurred and was fixed by the autopilot.
---
These were the list of newly added features into the new SEO Doctor APP Version 3. Also, there have a considerable amount of bug fixes to provide you with a smoother rich experience.
As seen above the recent update brings along a host of improvements, bug fixes, and UI Improvements making the new app version even more simple and easy to use. If you are already running on an older version of the app then you will be automatically upgraded to the new version. To enjoy its full features for longer make sure you are on Pro Plan.