Images bring an edge to the articles and overall websites, it also contributes to the website's seo. Optimizing SEO is not limited to using keywords, it also involves image optimization. Nowadays, you will find search engines' focus on seo images has increased, and so websites' seo ranking may vary based on that. 
Now, the question arises what is image optimization? And how we can make it seo friendly? The answer to this is, image optimization is the process of delivering high-quality images with the ideal format, size, and resolution along with correct labeling of images. 
The necessary step in image optimization which everyone generally forgets is the "Image Compression". It not only saves storage but also optimizes the website. It improves the website's performance, website ranking and makes your site's UX better.  Therefore, image compression has become necessary for websites and the best app to compress images in Shopify is the SEO Doctor app. It is the best Shopify image optimization app and for overall SEO optimization. 
In the following steps, you will know how to compress images in Shopify within minutes.
To compress images in Shopify, visit the SEO Doctor app. For that, go to SEO Doctor – Shopify SEO App.
Then, hit the "Add app" button and log in to your Shopify store by adding the URL and clicking on the login button.
Further, click on the install app to download the SEO Doctor app in your Shopify store.
Once the app is installed, navigate to Apps > SEO Doctor and it will take you to the SEO Doctor Dashboard.
Click on the "Image Tools and More" dropdown, you will see the "Image Compression" option, click on it.
Now, you will see all the products you have added to Shopify here.
Further, select the image you want to resize and click on the "Compress" button. You can also revert the image size once it is compressed.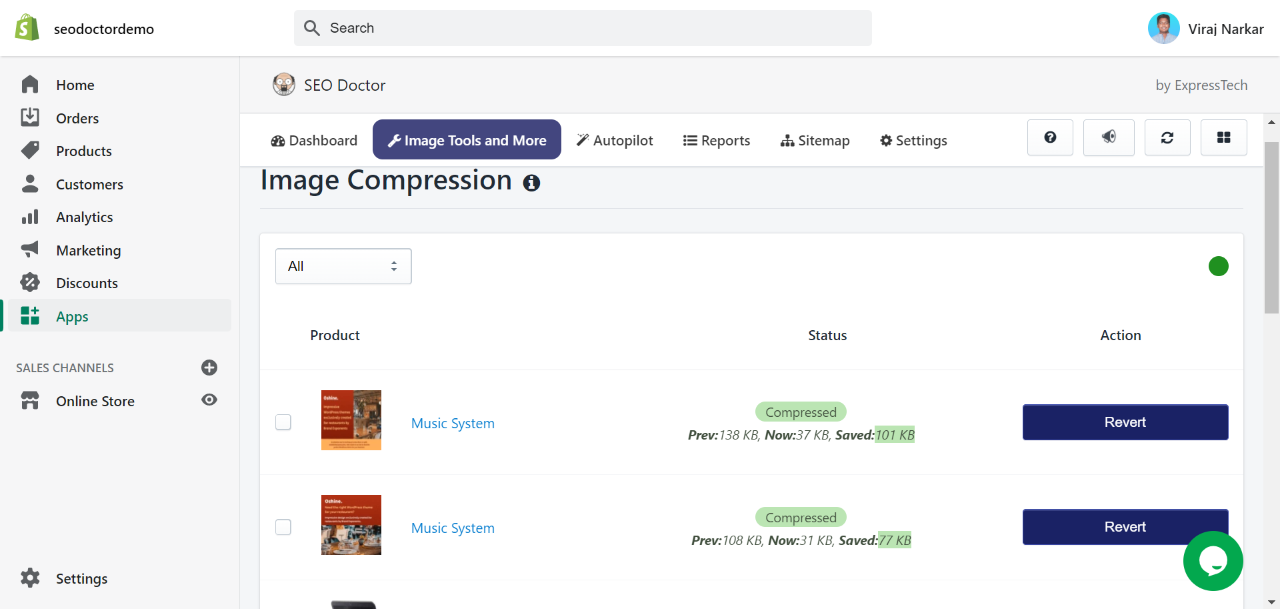 Under the "status" column, you can see whether the image is compressed, uncompressed, or perfect size (that means the compress is not required).
This is how Shopify image resizer works! In a jiffy, the Shopify image optimization app helps you to compress images.
You can also compress images automatically, just follow the steps below:
Click on the "Autopilot" option and go to the "Image Compression"
Enable the option and you will see conditions and rules.
Select one condition as per your preference and then click on the "Save" button on the top right side and update it.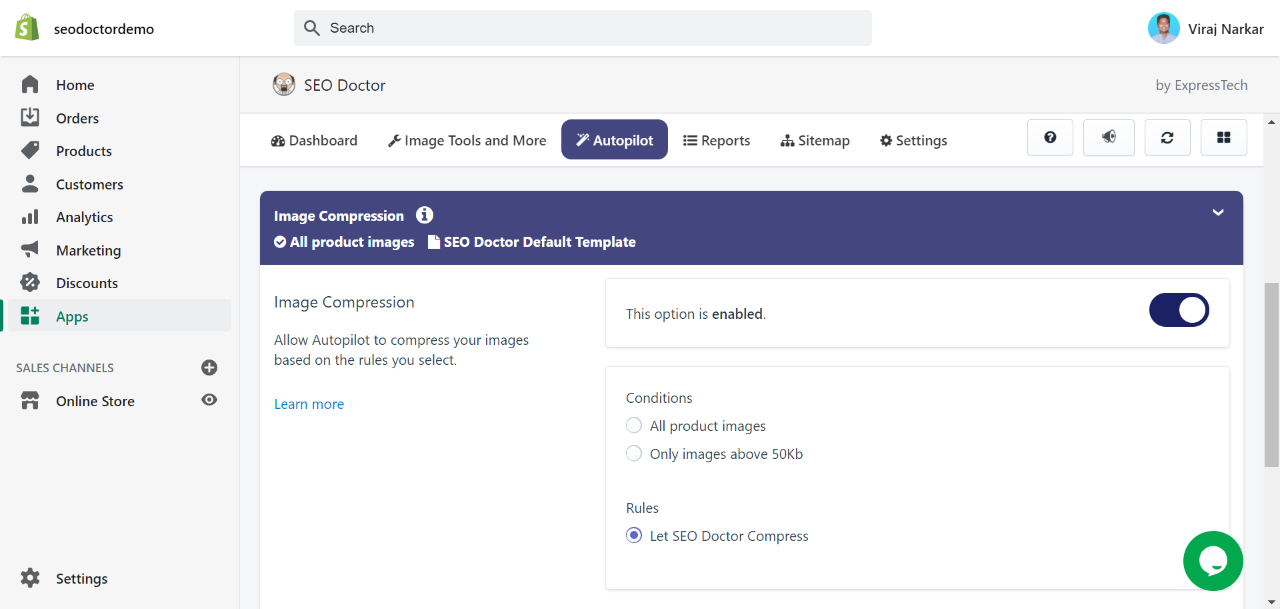 Once that is done you will see a green blinking dot in the "Image Compression" section, which tells you that automatic image compression is enabled.
SEO Doctor – the Shopify image optimization app is the best tool for image optimizer and SEO ranking.