Broken links or 404 errors in Shopify or any other websites are a nightmare to deal with for companies. It not only results in losing a potential customer, a bad reputation, and a decrease in seo ranking for the companies but also poor experience for users. Broken links or 404 errors are hyperlinks [either inbound (internal) or outbound (external) links] on your website that don't exist due to several reasons like:
Websites are no longer available
Webpage moved without providing redirect URL
Typos error while entering the URL
Third-party websites no longer exist
While Google has simply stated that broken links will not affect rankings in SERPS (search engine results pages). However, it can affect in a way that, due to 404 error visitors will leave the website and that will cause a decrease in traffic. Search engine algorithms will presume that you aren't giving your customers relatable high content and that will ultimately lead to lower rankings. 
Therefore, in this article, we will guide you on how to fix the 404 error Shopify (specifically) with the help of the Shopify SEO app – SEO Doctor app.
To start with visit the SEO Doctor app – Shopify SEO app
Click on "Add app" and log in to your Shopify store.
Then, click on the install app to download the SEO Doctor app in the Shopify store.
Now the app is installed, go to Apps > SEO Doctor and you will be led to the SEO Doctor Dashboard. 
Click on the "Image Tools and More" dropdown, go to the "Broken Links" option.
You will see a list of links with 404 error Shopify, click on the "Redirect" button and enter a redirect URL to fix broken links. If Shopify's broken links are fixed, you get to see 'Success" under the "Status" column.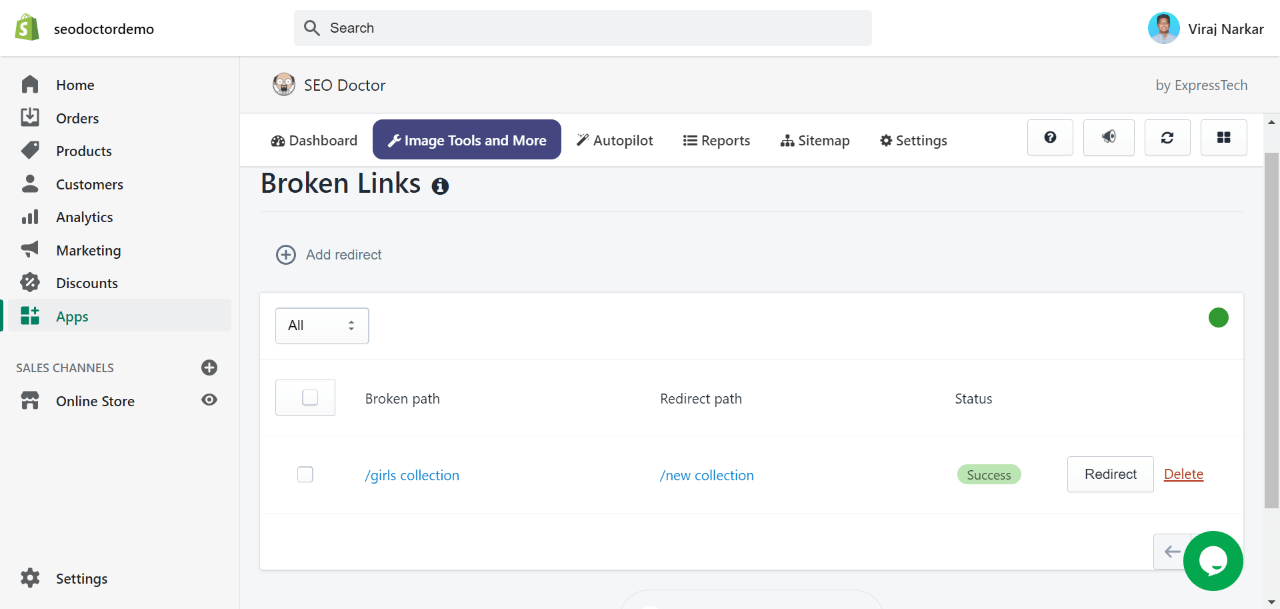 You can also click on "⊕ Add redirect" to provide a redirect path for 404 error Shopify broken links.
One by one going through broken links gets tiresome, especially if you have many products and requires regular updates.
So to fix the Shopify broken links automatically and not face 404 error. Go to, Autopilot > Broken Links and enable the option to allow fixing of 404 error Shopify.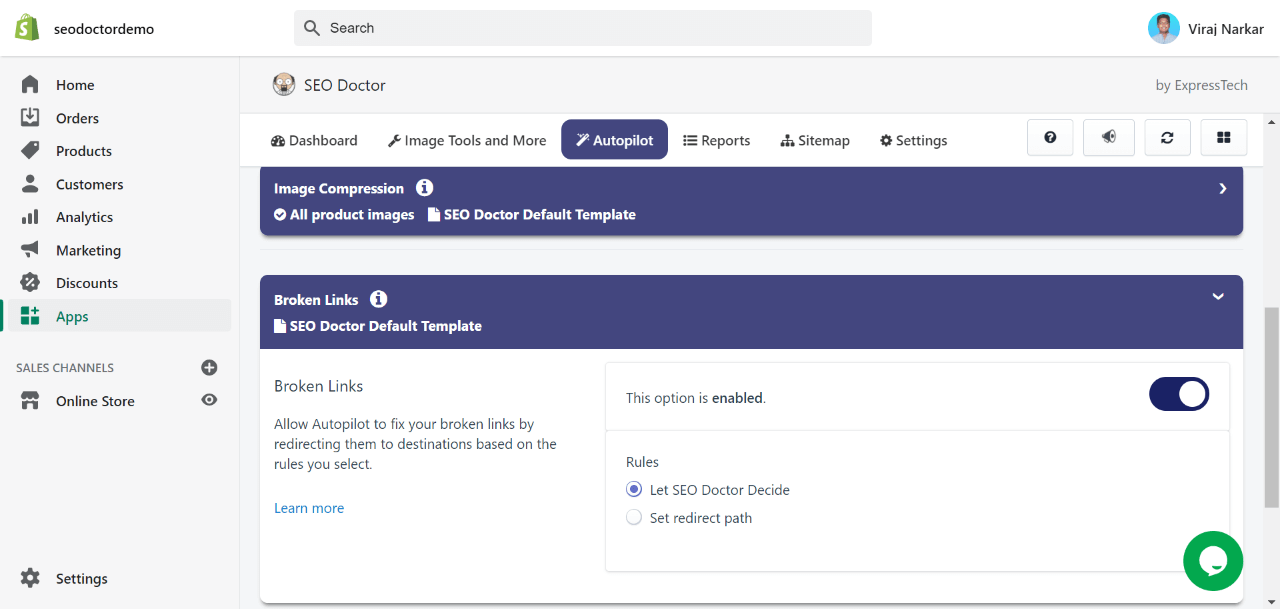 Select the rules and click on the "Save" button and Update it.
Once done, you will see a green blinking dot in the "Broken links" section. It notifies that your 404 error in Shopify will automatically get fixed.
To practically implement the steps mentioned above to fix 404 Error Shopify, I suggest you click on the below button now, add the SEO Doctor app (in free) to your Shopify store and get going.