What's all the hype about? Team SEO Doctor is delighted to announce the new update to the Shopify – SEO Doctor App. With Version 3.1 SEO Doctor has improved significantly thereby allowing you to have much better control over the SEO of your Store and receive detailed information of the SEO Issues and their Fixes.
The SEO App has improved a lot in terms of performance and Appearance and is now much faster and smoother to use. SEO Doctor App can fix all your store's SEO issues automatically with the Autopilot Mode. It comes with features like:
Meta Title Fixing
Meta Description Fixing
Alt Image Tags Fixing
Rename Images
Automatic Image Compression
Realtime Error Tracking
Website Booster
Sitemap Submission
Google Webmaster Tools
Google Knowledge Graph Support
JSON LD Data Support, and more…
The SEO Doctor App is available for Free on Shopify Store with Manual Settings and has a Pro Plan for Automated Fixes (Autopilot Mode). Now, you can even try the Pro (Automated) Plan for 5 days free, go check out you'll definitely love it.
Also Read: 10 Best Shopify Apps for Product Feeds [Compared]
List of New Features and Enhancements from the Latest v3.1 Update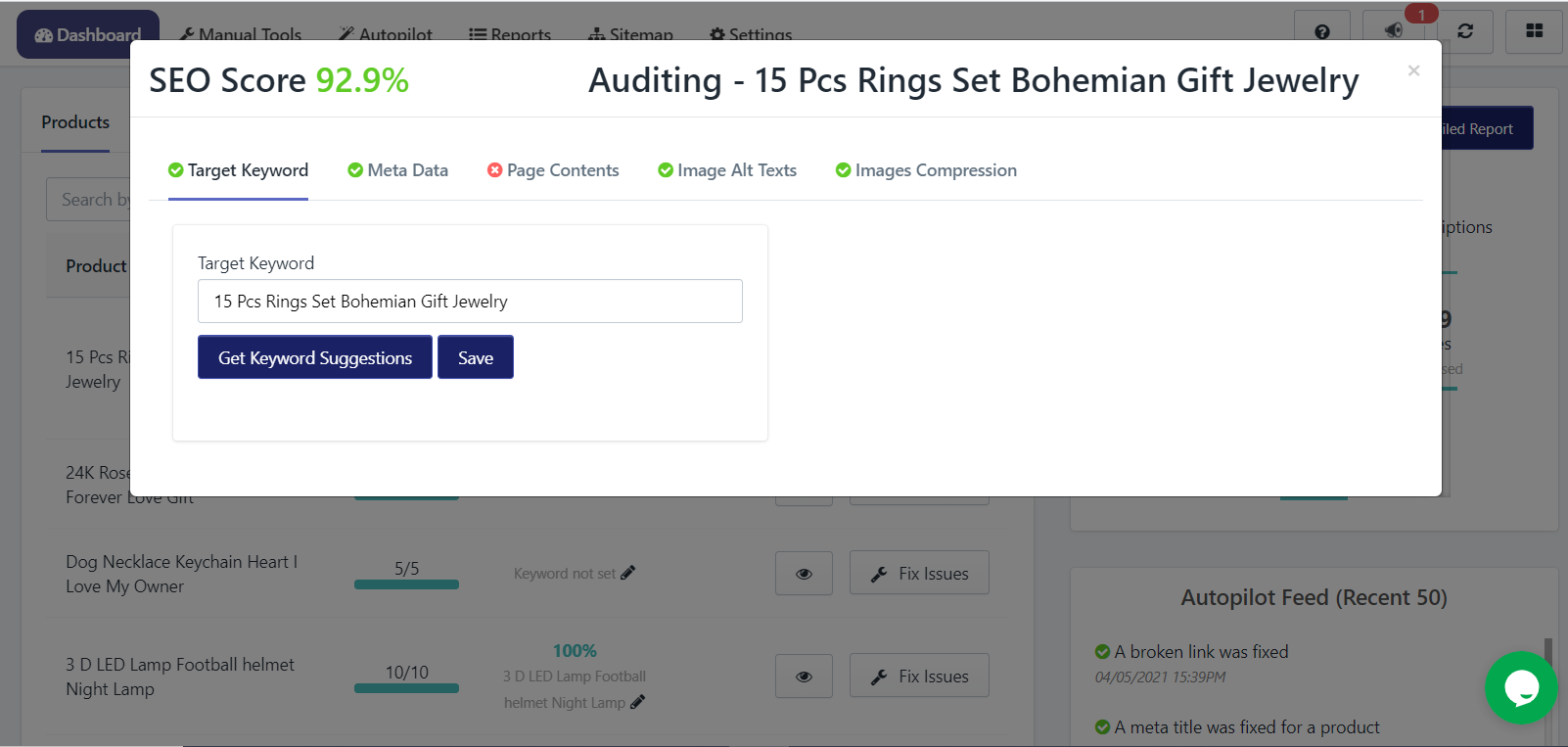 Tour Guide for New Dashboard
We've introduced a guided tour of various sections of the dashboard which is the gateway to all the SEO Data and reports making it easy to navigate and analyze the SEO Data quickly and take specific actions. This guided tour takes you through all the app features explaining their functions in short
Dashboard Enhancements
The dashboard has been improved for better data visibility and for quicker navigation. The Dashboard houses Products, Collections, Issues feeds and their fixes, Manual Tools Menu, Autopilot Menu, Reports Menu, Sitemap, and Settings.
Detailed Issue Reports
Browse and review issue reports with data for Meta Titles, Meta Descriptions, Image Alt Texts, Images Compressed, Broken Links that can help you plan and improve on minimizing the issues as and when they occur.
Engagement follow up emails
If you are away just enable the notification option from the settings by adding your email address and Receive updates on fixes or issues as and when they happen on your store and always stay updated.
Eliminated Legacy Codebase
We have done major improvements in the backend code and Eliminated the need for NodeJS API Gateway, meaning now the app is sleeker and performs better in day-to-day use.
Conclusion
These were all the improvements and enhancements the SEO Doctor App received in its v3.1 update. Stay around and keep an eye on the SEO Doctor blog as we regularly post useful content that helps you in your SEO journey.
If you'd like to read more, Here is an article for you explaining 10 Simple Steps To Get Started with your Shopify Store.