Has your little pretty head ever thought about why your product images are not showing up on Google image search?
It is because either you don't know about 'image optimization' (which you must know) or you don't know how to implement it. Image optimization in SEO is a crucial part of SEO ranking, if you want to top in search engine ranking then it's important to optimize your image on a website along with other aspects of website optimization. The same goes for the Shopify app!
Anyway, this article is not about tips and tricks but even better, I've listed down the top 10 well-researched and curated Shopify image optimization apps. It will make your image optimization in the SEO process easy and most cases automatic.
What is Image Optimization?
Image Optimization is an art that you should master if you want to increase SEO ranking (and increase revenue from it, ultimately that's what we all aim for!). However, it is specifically important if you own an online store or e-commerce website since product photography is their selling point.
Image Optimization is the process of delivering high-quality images in the right size, format, resolution, and dimensions while compressing them to their best size. Images can be compressed in various ways, JPEG and GIF are the most common ways to compress images into.
10 Best Image Optimization Apps for Shopify
1. Image Doctor app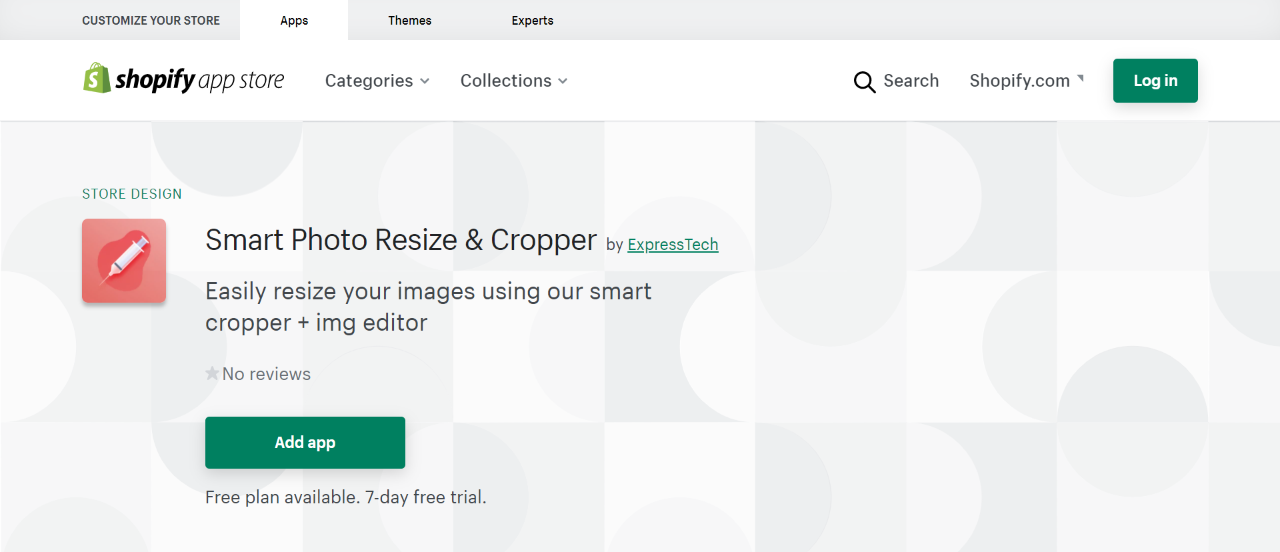 Image Doctor app or Smart Photo & Cropper by ExpressTech is our first in the list of Shopify image optimization app. As the name suggests, it is a smart app but also comes with a simple user interface. You can easily edit and compress images with a click of a button. This app comes with a 7-day free trial (so my suggestion would be don't judge the app by its cover, go and try it). Along with it is a free and premium ($4.99/month) plan that is very inexpensive.
Key features:
Instant Preview
Image Compression
Save Images Inline
Mask Filter
Remove Background, Add Filters, and many more.
2. Avada SEO Image optimizer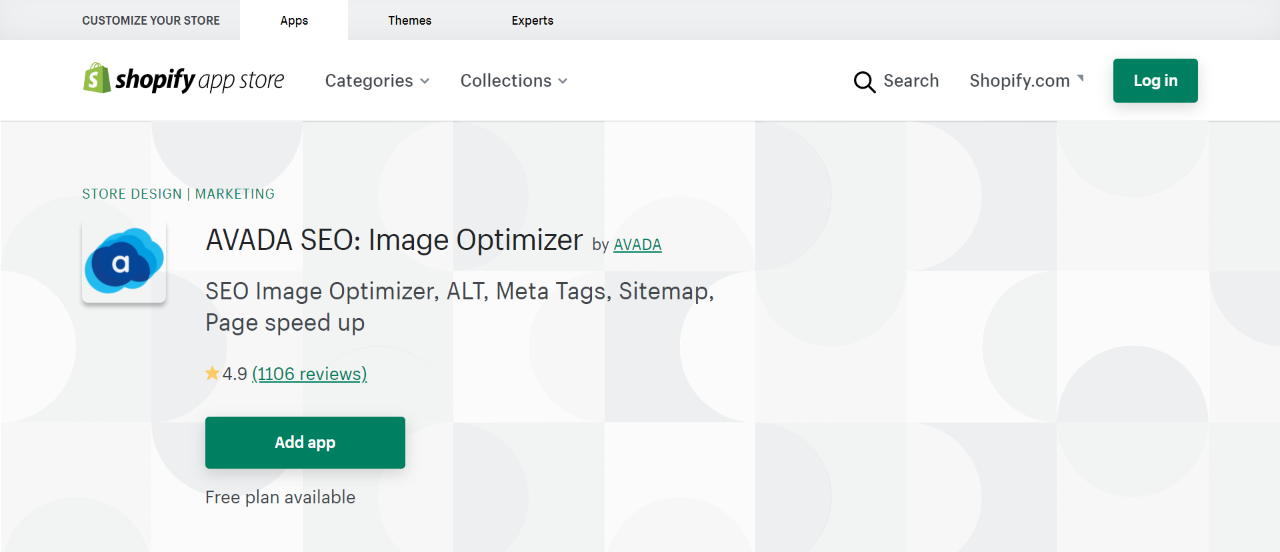 Avada SEO is a comprehensive SEO optimization tool for SEO in Shopify. Avada offers you a 14-day free trial period for all its users, it is easy to use program that has key features like:
Faster page loading, store ranking, and conversion
Standardize Meta tags
Google Search Console Integrated
HTML Sitemaps
Social Meta
Site Verification
SEO Analysis
Image Alt Tag Optimization
The main highlights of this SEO Suite are that it automatically adds Alt tags to every image and optimizes images to boost loading speed. It even compresses the image but keeps its quality unchanged. In addition, it provides detailed SEO Analysis with problem reports and solutions for improvement. Avada with Google's automated structured data helps search engines to prioritize website material on the search results page.
3. Crush.pics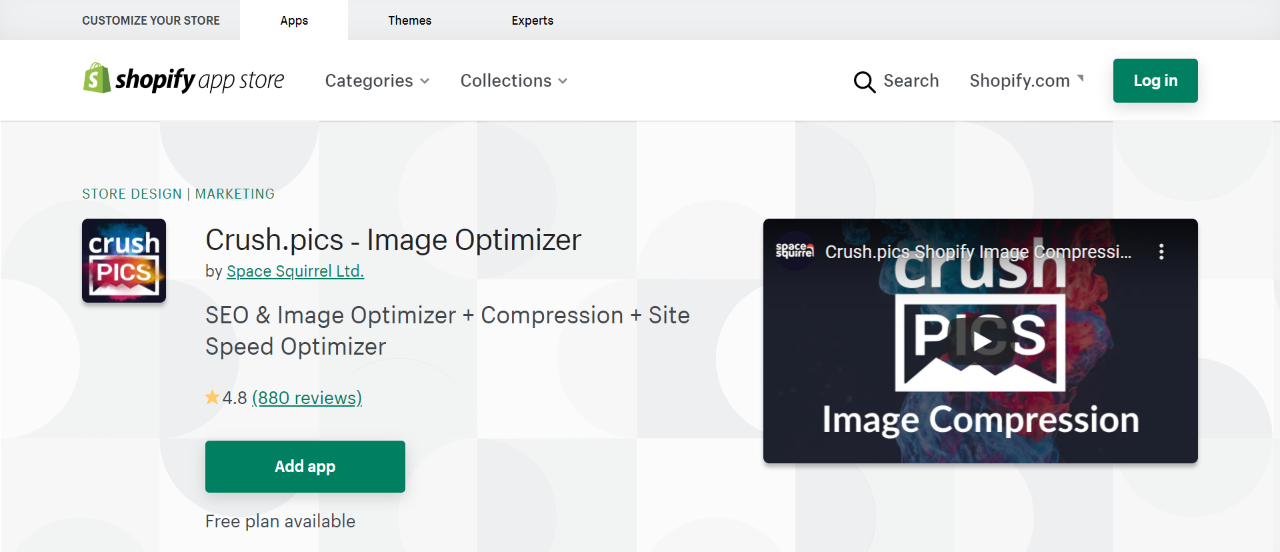 Crush.pics is one of the best Shopify image optimization apps and is used by thousands of professionals around the globe. The Crush.pics approach is "Balanced Compression" which helps you to achieve the best-compressed size but no compromise with the visual image i.e, the best visual image you'll get. Along with this, you get other two options to compress images in Crush.pics – Conservative ( use of Lossless algorithm) and Custom (make use of Lossy compression).
Key Features:
Fully Automated
SEO Image Optimization
Advanced Image Compression
Advanced image SEO and ALT tag renaming
Compress Asset Images(images that makes up your store's theme), Blog post images, and smart collection images
Stores original images for 30 days
The manual set-up of image compression
It is a plan for every merchant, from one to millions your Crush.pics has got your images back.
4. Image Optimizer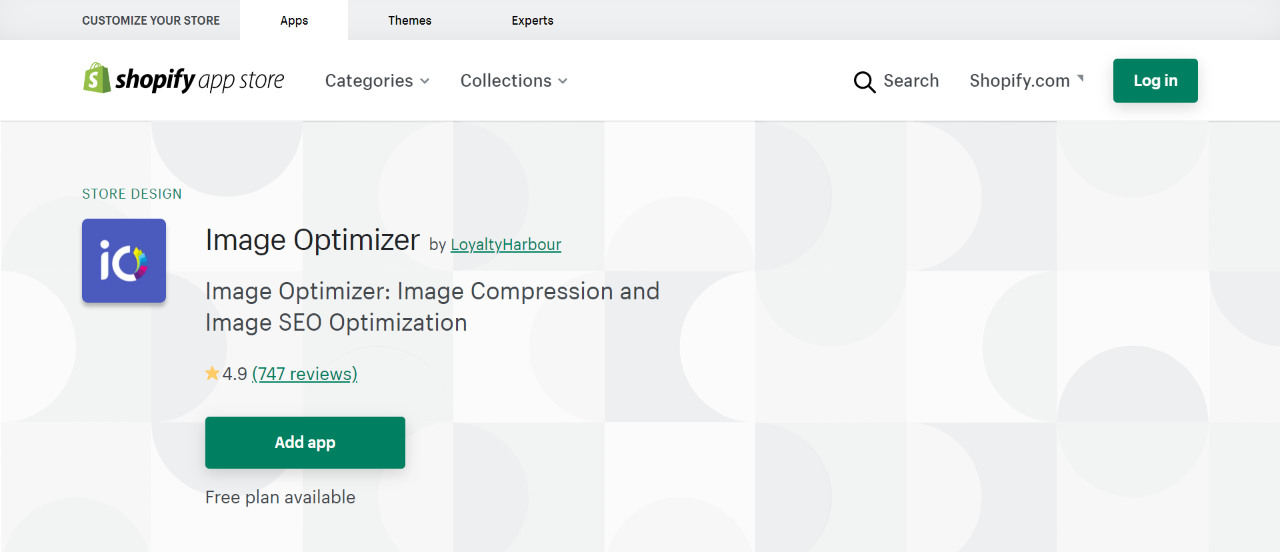 Image Optimizer by Loyalty Harbour is specifically designed for Shopify image compression in SEO as the name speaks. Each graphic component in your site is done by this app. The app helps your website/ store to improve SEO and google image search rankings. A faster loading storefront not only makes your customers happier but increases the conversion rate. You get a free option along with pro pricing packages.
Key Features:
The backup and restore feature
JPEG, PNG converter and also includes GIF
Filename and Alt tag Optimization
Image Optimizer: Image Compression
5. TinyIMG SEO & Image Optimizer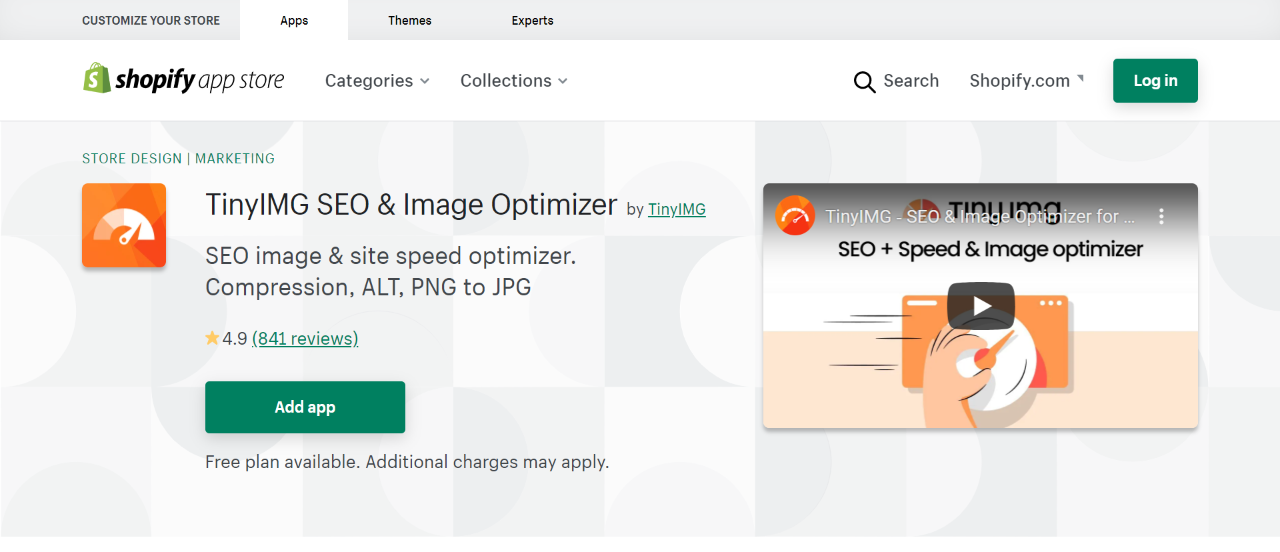 This app by TinyIMG main aspects is to drive more SEo and organic traffic, boost page load speed and provide you with SEO and speed on autopilot. It improves SEO and speed by disabling third-party apps if not needed.
Key Features:
Provides you with the template design optimization
Automated (PageFly, LayoutHub images optimization), & manual optimization (Shogun, Gempages, icons) available.
App script control
Add & Edit Alt tags and filenames for better SEO and organic traffic
JSON LD Microdata (delivers indexable content to search crawlers like Googlebot)
Metadata optimization
Lossless image compression feature
Broken links reports and redirects
6. Minifier SEO Image Optimizer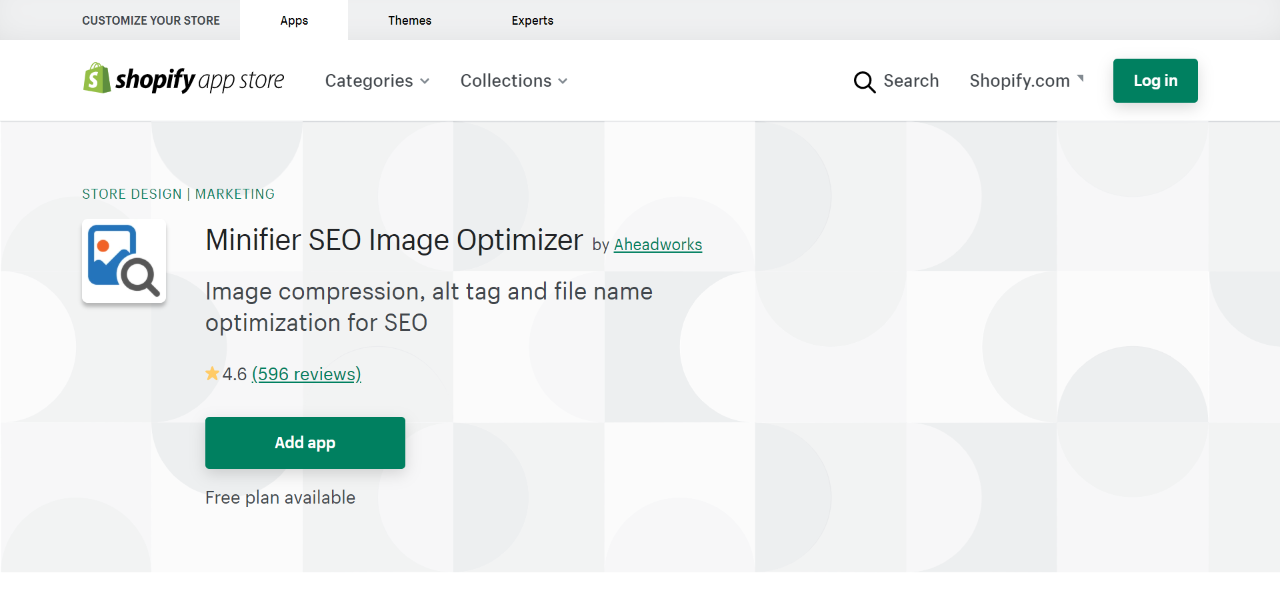 Minifier SEO Image Optimizer app by Aheadworks is developed to improve store visibility and speed up your image by compressing images up to 70% without comprising on the quality (that's what they claim!). This app has both paid and free plans, you can try its free features to understand the idea behind why it is included in the top 10 Shopify image optimization in SEO. Forbye, they use industry-leading algorithms and therefore, are trusted by big brands like Tesla, Dell, Microsoft.
Key features:
Integrates with Buildify
IPTC Information preservation
Lossy (up to 70% image reduction) & Lossless compression (up to 30%)
Improved store visibility by optimizing alt-tags and image titles
Use tools for boosted loading- Smart page prefetch & Automated lazy image loading
Manual and Automatic image optimization mode
PNG to JPG
7. Swift Page Speed Optimizer AMP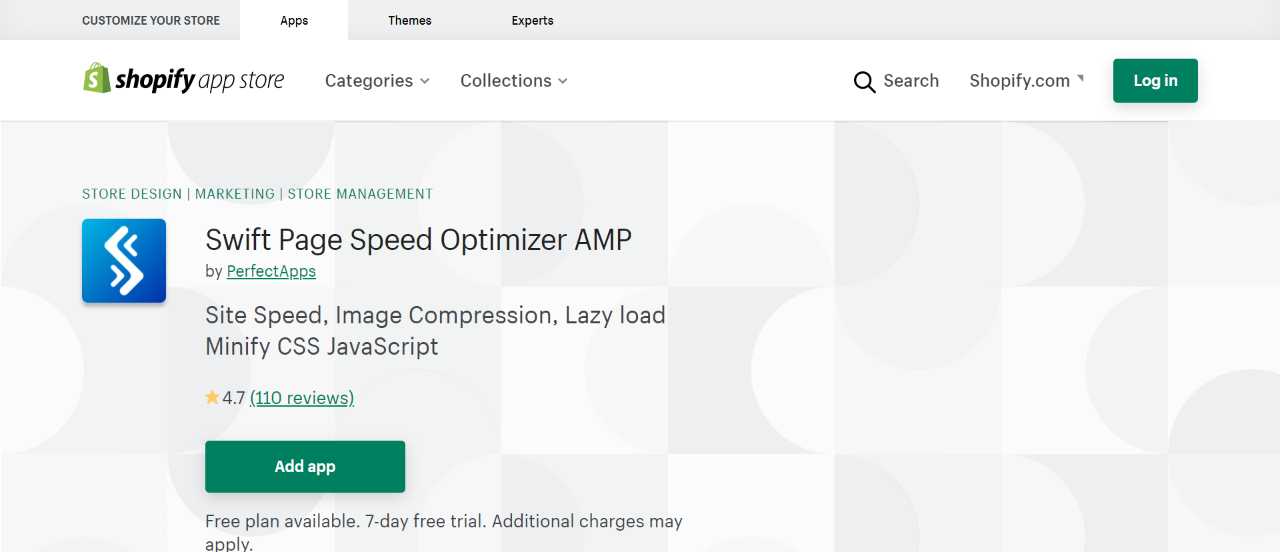 This app by Perfect Apps is another best app in the top 10 list of Shopify image optimization in SEO. Its main focus is on Shopify Page Speed Optimization, this approach of the app is backed up by offering an innovative solution. It is based on powerful tools like Google Lighthouse, GTMetrix, and PageSpeed Insights. With features like image compression, theme optimizer and lazyload technology it boosts page speed and helps with higher SEO rank & traffic.
Main features:
Auto optimize process
Advanced Smart Lossy Image Compression technology
Store speed solution with Preload
File Optimizer with minification and unused JavaScript deferral
8. Booster Seo & Image Optimizer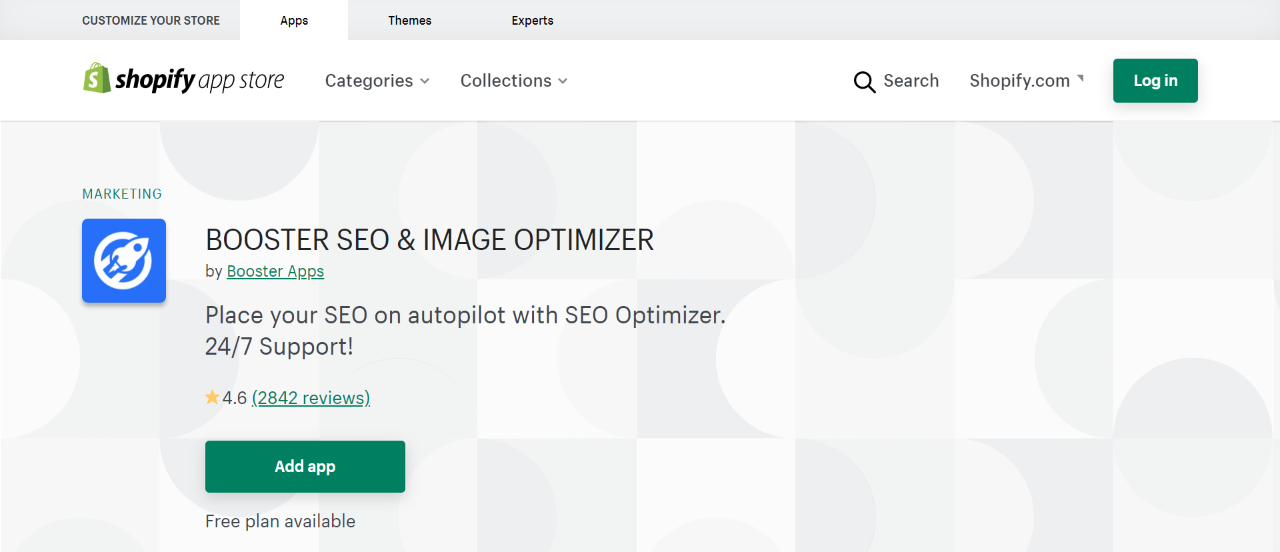 The name itself speaks about the app, it is the Booster Apps program that is exclusively an SEO app built for Shopify. As per the app description, it is one of the longest-running SEO apps in Shopify, it has 24/7 US-based world-class support. It ensures setup for On-Page SEO success, along with that it monitors and automatically optimizes your store for reaching Google's best practices. Booster SEO & Image Optimizer gives you three pricing options you can choose from – free, pro, and premium (that starts from $34/month & $64/month respectively).
Key features:
One-click SEO manager installed
3-in-1 app with image alt tags, compress and resize images
Meta tags, sitemap optimization, and much more
Ensure structured URLs for URL keyword optimization tool
Automated SEO Optimizer
9. Page Speed Optimizer: PI Speed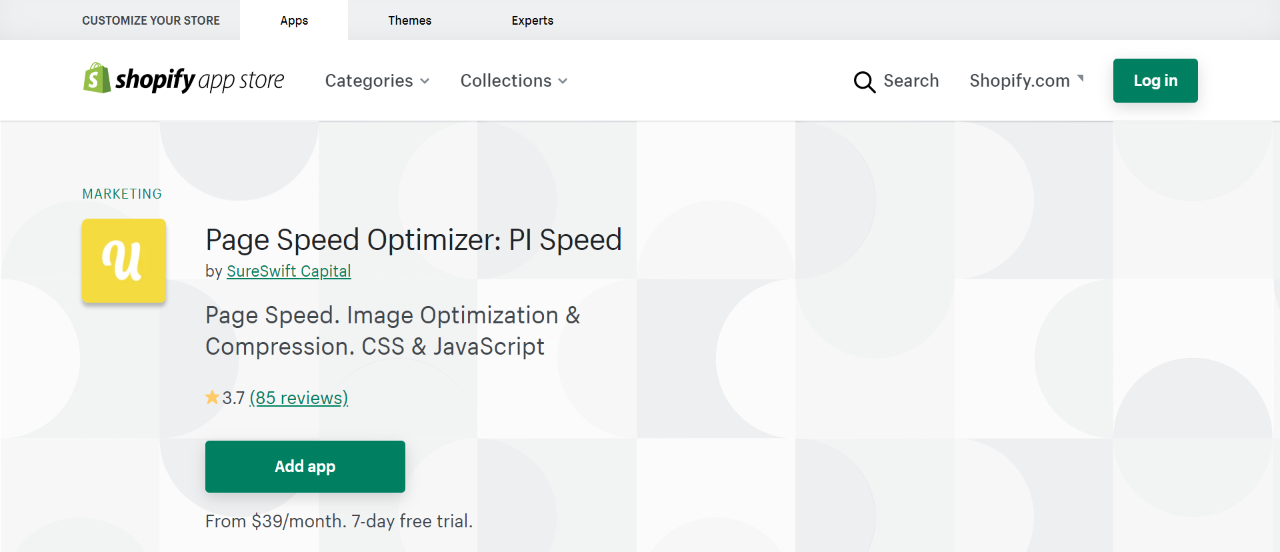 Page Speed Optimizer: PI speed by SureSwift capital is yet another all-in-one page Shopify speed optimization app. As per the research, around 40% of visitors leave the site if within 3 seconds the page doesn't load. Therefore, slow loading sites lead to a higher bounce rate, and that's where page speed optimizer comes into view. It not only resizes and compresses images, but you can also optimize code & a lot more for better SEO & increased conversions.
Key Features:
CSS/JavaScript optimization
All pages Image Compression
Improves mobile and desktop page speed
Integration with Google Pagespeed and Lighthouse
Restore 30-day backup
Auto-optimization of images
Lossless and Lossy image compression
10. SEO Image Optimizer‑Page Speed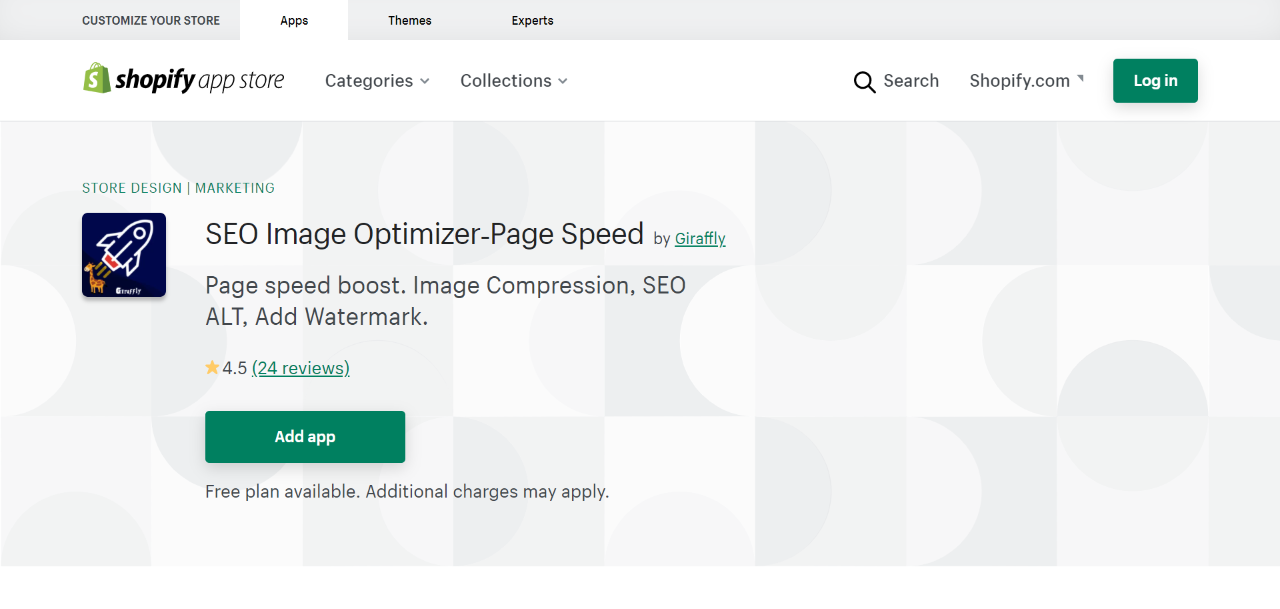 SEO Image optimizer – page speed by Giraafly does not keep your customers waiting. It has the feature of auto-sync new asset images, product and blog post images. You will find fully advanced optimization, make your site more accessible with image alt-tags, you can simply upload images to be accessed. Further, the main aspect here is it speeds up the Shopify website and increases sales (by reducing page abandonment rate).
Key features:
One-click manual optimization
Image Compression (Lossless, Lossy, and Custom)
Compatible with all Shopify themes
Code-free app
Automatic SEO Image Optimizer
Add Watermark
Boost website speed
Final Thoughts
So, these were the top best Shopify Image Optimization Apps that make your Shopify store SEO optimized and ultimately you and your customers happier. You can try any of the above apps and let us know your thoughts in the comment sections.