Yes, you read it right! Black Friday and Cyber Monday Sale 2021 are back yet again with their super amazing deals. Which I think you all were eagerly waiting for and don't want to miss, right?
We have come up with Shopify apps deals by Express Tech that will make you want to purchase them instantly. If you were waiting for the right time, then this is the right time, the golden opportunity you don't won't to miss making your quick purchase. 
Also, this BFCM sale is up for only a limited time period, from 26th November to 29th November 2021, so hurry up and make the best out of this grand deal!
Black Friday and Cyber Monday Sales
When you have so much to choose from but don't know what's best for you, is a real struggle. These amazing sales always bring a lot of confusion and difficulty in deciding what is a good purchase for your website. Hence, to remove those confusions and slim chances of purchasing products that are not worth it. I have curated the top 3 Shopify apps, that are the best at what they do. Whether it's optimizing your store SEO or boosting sales by advertising on different social platforms. Not just me saying it but also from customers who have tried these apps and loved them.
Here we are with a detailed description of all our Shopify apps with the deals we are offering in them.
1. SEO Doctor Shopify app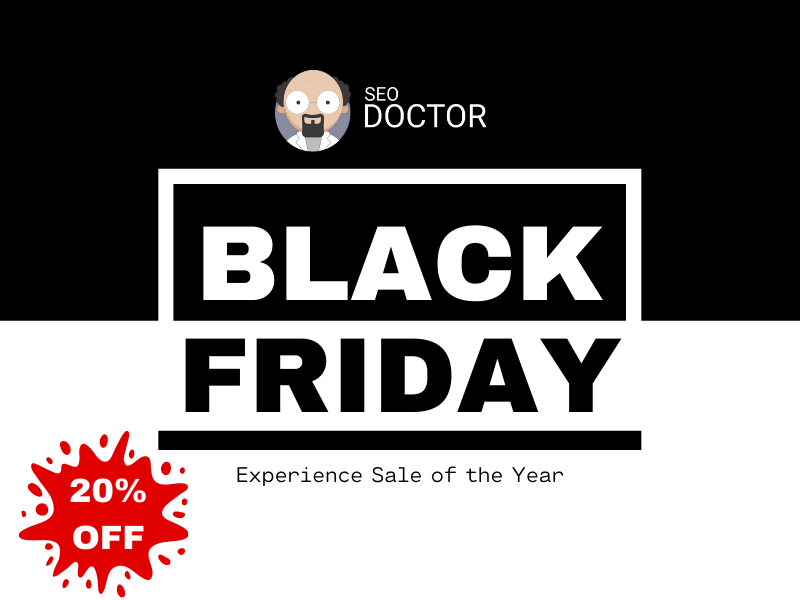 As the name suggests, the SEO Doctor app is the doctor of SEO optimization. It fixes all the Shopify SEO-related issues that should be fixed in order to increase the store's traffic and SEO ranking. It is a perfect blend of different features like 404 error tracking & fixing, JSON LD Data Support, Google page speed integration, meta tags fixing, and sitemap submission.
It is not limited to that, one of the best features of this app is its Autopilot mode. SEO Doctor automatically optimizes your store and finds and fixes all the SEO issues automatically.
The SEO app is offering you 20% off on Black Friday and Cyber Monday sales. Since it is such a win-win offer I will say to grab this opportunity and see your store topping all search engines and gaining the attention of potential customers.
Coupon code: Not Required
Offer: 20% Off
2. FeedGeni App
FeedGeni is the Shopify Product Feed Generator app that helps Shopify and BigCommerce stores to increase product visibility and boost sales. It is done by connecting your Shopify store with various platforms like Google, Facebook, Instagram, Pinterest, and other such social networks.
It enables sellers to create their products' feed which then can be integrated into different channels for ads and campaigns. FeedGeni Shopify app automatically updates your feed in every channel whenever a new product is added. You just have to update your feed once at the start and rest you let FeedGeni handle it.
The app comes with many advantages like you can create basic feed and custom feeds, product mapping, inventory rules, and integration with major platforms like Amazon, Shopify, Google shopping, and BigCommerce. Using FeedGeni can also improve campaign performance with insightful traffic analysis.
Now, you can purchase this app at 20% off, it will be just available for a limited period. Hurry up!
Coupon Code: Not Required
Offer: 20% off
3. Image Doctor
Image Doctor app or Smart Photo Resize & Cropper is the Shopify image optimization app. As the name suggests, it is a smart app that comes with a painless user interface. In this app, you can easily edit and compress images with a click of a button. The app has features like image compression, mask filter, background removal, add filters, and more. It is one good app to work on if you
For Black Friday sale get 20% off on the Image Doctor app. It is simple with less time-consuming and presents you with an instant preview of your edited version. So, it will be a good buy for your BFCM sales.
Coupon code: Not Required
Offer: 20% off
Finishing Up
So, this was our list of Shopify's best deals for your Black Friday and Cyber Monday sales. Make sure that you purchase them before the deals are over, and make the best out of all the apps you will be purchasing. I know you will!
Also, this is not it, we have other BFCM 2021 deals which are not limited to Shopify but are from WordPress and SaaS. So have a look at them as well.
Don't forget to enjoy your holidays, Happy Holidays!